We have the best time going out to do programs, set up at festivals and other places bringing the animals to the people. I learned early on that these "Visual Aid's" were wonderful to connect people with their native wildlife. I all ways knew they walked away with a better understanding and appreciation of wildlife and the world around them. That is part of making a difference in the world, one of my goals.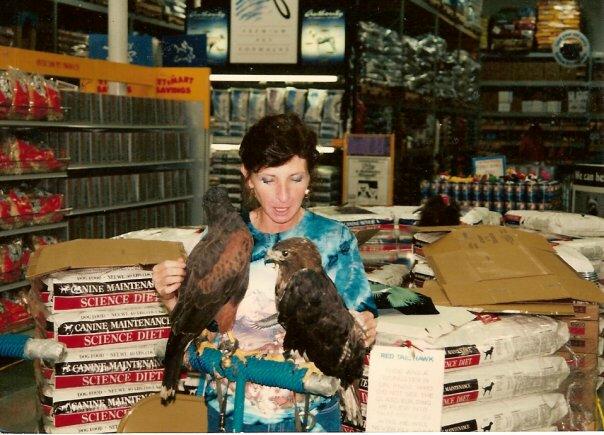 Lady Hawk, Thor and Me
at Petsmart







This is "Thor" a Red Tail and Lady Hawk a Harris Hawk, 2 of my favorite Birds of Prey. The Red Tail was hunting in downtown Orlando when he flew into an all glass building breaking his wing.

Lady Hawk was a Master Falconers bird that got spoked one day and took off. They found her 2 states over from Arkansas shot in the leg. The man coaxed her out of the tree to him by holding up the chicken he was cooking on his grill.














This is "Blondie" my very favorite alligator. She was all most 6 feet and would pull me around all day so that by the time we were done my back and arms were so sore from holding on.

This particular alligator was very docile, we think it is because if her unique coloring she was used a lot for education programs and very use to being handled. There was a time when I use to do "Gator Feedings" at a wildlife park in Christmas Florida and I have to be honest I was allways a bit afraid having to walk through the sunning gators to get to the dock for feeding. When at the dock on command I had a couple gators that would jump up for chicken. You had to be really quick and have good aim and have to say over time I developed my own style.














Raising "Faith"! What an incredible experience it was to raise my girl "Faith", a hybrid big cat that was half South American Puma and Half Florida Panther. I have another page dedicated to her and all the fun things we did and shared, here we are on the "Big Red Boat" at Port Canaveral.

Faith is currently retired and staying at a friends who has other big cats, that way she isn't lonely and has companionship. I am not certain if she will come back to be with me since I feel she needs to have some play friends and I don't see getting another big cat in my future.






Out and About at a Native American Pow Wow in Daytona Beach. These are our favorite places to go and be with people since we love the Native American Culture and People.

Here you can see that "Hollie" and I are still young since we have dark feather/hair. We have grown old over the years and have gotten white headed and have many tails to tell. One being I thought she was a he for the first 7 years until one night she was in with me and fell off the perch onto the floor.

I ran to them and scooped them up in my arms not knowing why they were shaking and squeeling like a little pig. Suddenly my hand felt warm and wet and there was a beautiful egg in it. It was an "Aha" moment of Oh My Gosh he is a she!!






This is "Lil Bit" a Shermans Fox Squirrel and one of the best every wildlife "Ambasadors" I ever had. He didn't smell like skunk, he wasn't wild out of control like a racoon, more personality than an opossom and had mannerisms like a cat.

I had rehabbed him and released him numerous times only to have him getting in mischief and trouble chewing through screens and getting into things.
"RAQUEL" Racoon a Pet Shop Rescue Love Story
She was a Holy Terror! Wild animals don't make good pets!
ABE LINCOLN MEETS PHEONIX THE GREAT HORN OWL
SCHOOL GUEST TEACHER DAY
MANGWA, MY EDUCATION BARRED OWL
HE CAUGHT HIS WING IN A BARBED WIRE FENCE
STAR TREK CONVENTION ORLANDO FLORIDA
KLINGONS LOVE THOSE BIRDS OF PREY